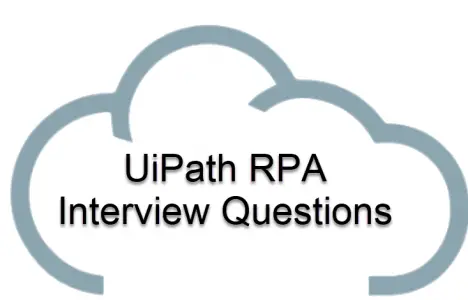 Robotic process automation is picking up at a great pace, Every software being developed is planning to have an enhancement around RPA. Big enterprises that have their ERP products being used are providing an enhancement to their products with robotics processes to reduce human involvement.
Here we see some top UiPath Interview Questions:
Questions on UiPath Studio, Robot , Orchestrator and More
Frequently Asked UiPath Interview Questions:
What are the limitations of RPA?
Decision-making and Intelligence is not available.
How do you make your process reliable?
What is the difference between Attended and Unattended Robot?
There are two types of robots: Attended Bots and Unattended Bots. Attended robots are those robots that reside on the human user's machine, and are typically invoked by the user. Unattended robots, on the other hand, are those robots that execute tasks in the background without any human intervention.
What is the use of UiPath Web Extensions?
UiPath Extensions helps us to extend the automation capabilities to web browsers, Java applications, Silverlight applications, and Citrix environments. They enable native detection of UI elements in such environments so that selectors are properly built.
You are getting error : "Could not find the UI element corresponding to this selector" . What can be the reason?
The Element is not available in the UI or it has not yet been rendered, or the Window the robot is searching is wrong. These are some common reasons.
How will you Click the 2nd occurence of a text on a UI page?
There is one property for Click Text activity named Occurrence. You can change the value of it to the required value – in this case, 2
What is RE Framework?
UiPath has provided a framework, a template, to help developers build enterprise-grade automations faster by applying best practices. This framework is known as Robotic Enterprise Framework, or in short RE Framework.
This template is based on State Machine Model. RE Framework provides structure to have configurable automations, process execution Initialization, clean starts and exits, automated recoveries, retries from failed application exceptions, participation in workload management through queues, Transaction Status Management, Logging, and structured workflow coding.
The framework workflow is controlled using state activities and transitions.
What parameters you would test before suggesting a RPA solution in a department?
Some parameters to check are
– Degree of automation existing
– What's falling short
– Identifying which processes can be improved with RPA
– What are the routine processes
– General sentiment about automation . Employees may resist automation as they may fear job loss.

-71%
Last update was on: May 19, 2023 5:45 am
UiPath 100 Practice Exam Questions with Explanation | Overview of Advanced Questions | Gain confidence to pass the Exam!
Check out more interview questions