Android phone WPS Connection
Before we go into details of connecting Android Phone WPS connection to wifi router, If you want to know about WPS please refer article what is WPS (Wi-Fi Protected Setup). This article does not cover specific Phone and Tablet brands or models but is a general guide. At the process level, it will work will most android devices.
Pre-requisites
Your Existing network should support WPS. and the android version should also support WPS.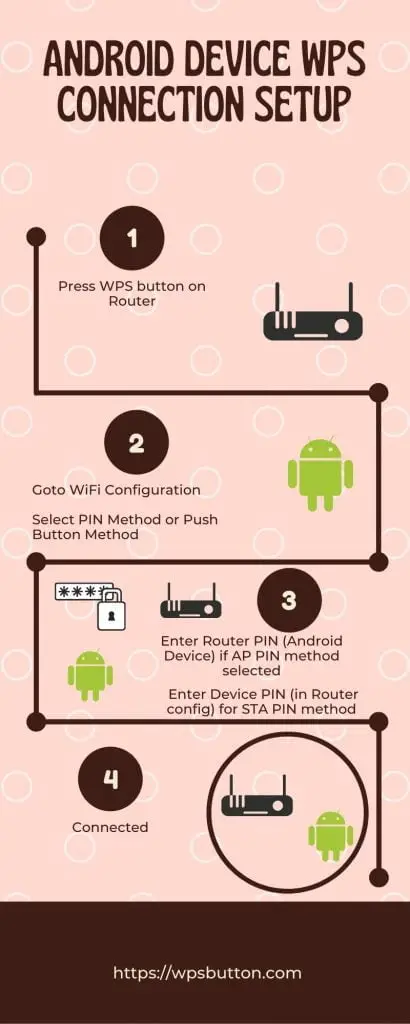 Steps to Configure
Step 1: Navigate the Wi-Fi screen in the Android Settings.
Step 2: Press the WPS button on the router. You can identify the button labeled WPS or with the WPS logo.
Step 3: Select WiFi preferences on your android device. This should be at the bottom of the screen. Different models or versions can have different navigation.
Step 4: Select WPS option PIN or push button method, based on your router configuration for WPS connections.
For push-button mode, press the WPS button on the router.
and for WPS PIN mode connection, enter the router PIN in the device PIN field..
Router PIN can be obtained from a label on the router or its administration console on 192.162.1.1
WPS connections on mobile can be easy for non-technical people with this method.
FAQs
Note: If your router doesn't have a WPS button, you can still connect your Android phone to the Wi-Fi network using the regular Wi-Fi password. Just select the Wi-Fi network from the list of available networks and enter the password when prompted. Follow the terms of service.
more on home technologies