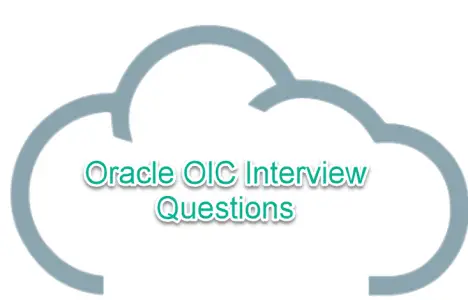 Looking for OIC Interview Questions? Be here. Oracle integration cloud is a hot product from Oracle and is picking up steam in the IT integration market. I have seen a dearth of skilled workforce in many companies and there is a big demand for OIC resources. Oracle OIC previously known as Oracle ICS ( Integration Cloud Service) was also known as oracle autonomous integration cloud at some point.
Though doing a Certification is one way to get the required knowledge, job interviews are not limited to certification questions.
If you are from an EBS background the questions would be more varied and it gives scope for the interviewer. Do go through and brush up on oracle app technical interview questions.
The expectations would also be around understanding enterprise architecture, which may consist of PaaS, SaaS, and OnPremise applications. The scenario can be of having cloud products from different vendors. I can recommend a small Course around Enterprise architecture to build that understanding.
Here I am going to share 45+ Oracle Integration Cloud OIC Interview Questions, Some typical and not so simple which Candidates can prepare and Interviewers can frame around during interviews. So let's get started !!
Frequently Asked OIC Interview Questions
These were some of the oracle integration cloud interview questions, hope you got an idea. Thanks for reading!
Books
By Robert van Molken & Phil Wilkins
Recommended Book
Online Oracle Integration Cloud Trainings
If you are new to OIC and looking for online training courses, here are a few OIC-focused trainings listed below that can give you a head start!
1. OIC course with Oracle Fusion Technical Training on Udemy
Check Details
This training covers Fusion Technical and OIC bundle (OIC /PCS/VBCS) and covers Dell Boomi as well, which is good to work on hybrid integrations. Also provides some use cases with Python and gives an understanding of Business process flow in the ERP and Financials.
A Good Training Overall!
2. OIC Training on Eduonix
Check it out !
The course will help you to prepare for the 1Z0 1042: oracle cloud platform application integration specialist exam.
Also, Check out
Do read the different Cloud deployment models.
Good Luck!