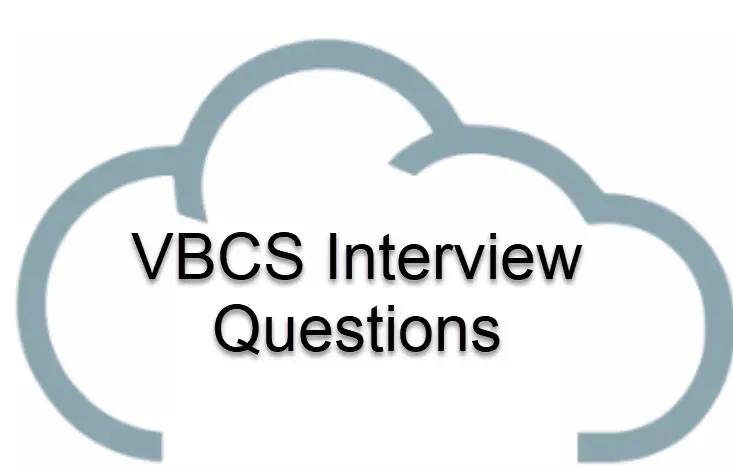 Before we see some of Oracle VBCS interview questions here is some background of the product.
VBCS Stands for Visual Builder Cloud service, It's a cloud-based product from Oracle to develop and extend mobile and web responsive applications.
When launched initially in around 2016 it was called ABCS (Application builder cloud service) and had limited features. With time VBCS has become an integral part of Oracle's roadmap for the development of new cloud applications.
VBCS now comes packaged with Oracle Integration Cloud (OIC) which also has PCS (Process Cloud Service).
FAQs on Oracle Visual Builder Cloud Service
Now Lets checkout some VBCS Interview Questions which are commonly asked .
Hope this post provides an idea of VBCS interview questions. Please share any new questions you have encountered in the interviews in the comments.
Oracle VBCS (Visual Builder Cloud Service) Trainings
If you are new to VBCS and looking for online training courses You can check the below training which provides a comprehensive understanding and can give you a head start in your VBCS career.
Check it Out !
This course will help you to learn Oracle Visual Builder quickly and take you to through various real-time examples of web and mobile applications that help you to adopt the VB easily.
Below is a bundle course on OIC, PCS, and VBCS from K21 Academy
Check Details
Covers: Provisioning OIC | Connectors | Agents | FTP Adapters | File Adapter Database Adapter | SaaS Adapter (Salesforce) | Troubleshooting | Customer Case Study | Security | Monitoring Integration
With 11 Lessons on PCS and 12 Lessons on VBCS.
Books
Indepth Coverage of Scenarios
Suggested Reading: OIC Interview questions