In this article, we will take a look at some of the best chosen bp video interview questions.
 BP (Previously British Petroleum) changed their hiring procedures to include something called a "HireVue interview".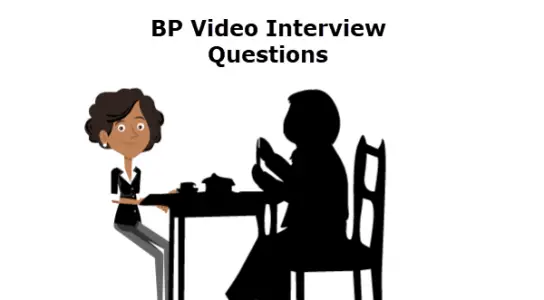 What we're talking about here is how to improve and give an impactful performance during your interview and this post will help you prepare and practice for your one way video interview.
This is great practice for your BP interview. Try out answering these common interview questions to the timer.
At BP, there are 2 different types of video interviews that are used
On demand video interviews
Live video interviews
BP On demand video interviews
On-demand video interviews are those where you will be given a set of questions beforehand and you will need to prepare the answers in video format before a given date or time.
This format gives candidates the opportunity to answer prerecorded or pre-set questions. These may be similar to a traditional interview question.
Enough time is given to record your video answers for the questions.
Each candidate will be asked to answer the same set of questions, so every prospective candidate can prepare the video answer in his own way and apply uniqueness. Also, this helps maintain equality and uniformness while interviewing.
Live Online video interviewing
The live online video interview is the face-to-face interview over and video conference . You can give the interview from your home or a place where is less disturbance.
The video interview will need you to have your web camera on along with a good microphone.
All you need is an internet connected device with a camera and
microphone.

Live video interviews in many ways are very similar to having a face-to-face
interview, so remember to prepare.
Treat this live interview as a mutual conversation and ask questions if you need any information from them.
So here are the most asked questions
Why are you interested in working for us?
You can tell you have followed the company and its your dream to work with such prestigious brand.
tell how you best fit in the role
What do you know about our company?
Prepare some background of the company history
What's your greatest accomplishment?
Tell about some complex task you achieved.
What is your ideal work environment?
you can see a challenging environment with growth opportunities is best for you.
Where do you see yourself five years from now?
Research about the growth path in the company and explain how you want to grow.
What is your biggest strength and weakness?
Tell something positive in both cases. Like I can't say lies for weakness and never say die spirit for strength
How do you measure success?
You can say I follow the process success will take care of itself.
Tell me about the time you had to deliver disappointing news.
Tell how you overcame a challenging situation where you could not do the expected job.
Tell me about a time you had to deal with conflict in a team.
You can say how you spoke to each member and tried to resolve the issue
Tell me about a time you had to explain something complex.
You can say you used visual tools to explain the complexity. like powtoon
Tell us something that is not on your CV.
Tell some thing like what you do in free time , your hobbies.
Why do you want this job.
Tell you are the best fit.
Some More BP interview related questions
Why are you interested in working for BP?
Answer: "I'm drawn to BP's commitment to sustainability and its ambitious goal to become a net-zero company by 2050. I'm excited about the opportunity to contribute to that mission and work alongside like-minded individuals who are passionate about making a positive impact on the world."
How do you stay organized and manage your workload?
Answer: "I'm a big believer in using to-do lists and calendars to stay on top of my tasks and deadlines. I also prioritize my work based on its importance and urgency, and I'm not afraid to delegate tasks when appropriate to ensure that everything gets done on time."
Can you give an example of a time when you had to work collaboratively with others to achieve a goal?
Answer: "In my previous job, I was part of a team tasked with developing a new marketing campaign. I worked closely with designers, copywriters, and other stakeholders to ensure that our messaging was consistent and on-brand. By pooling our diverse skills and perspectives, we were able to create a successful campaign that exceeded our goals."
What do you consider your greatest strength, and how does it make you a good fit for this role?
Answer: "I'm a highly adaptable individual who can pivot quickly in response to changing circumstances. I think this quality would be especially valuable at BP, where the energy landscape is constantly evolving, and the company is committed to innovation and growth."
How do you approach problem-solving and decision-making?
Answer: "I like to gather as much information as possible and weigh all of the available options before making a decision. I also value collaboration and seek out input from others to ensure that my decisions are well-informed and take into account a variety of perspectives."
Useful Videos related to bp video interview questions
BP HireVue Video Interview Questions and Answers Practice
"If you are preparing for your #BP #HireVue Video #Interview - this video is here to help you get comfortable and confident in your BP video interview. You will ...
How to be prepared for the BP Video Interview?
Follow the below tips to be better prepared for your interview. importantly keep calm and be relaxed.
Plug in your laptop.
Don't fail by running out of battery.
Check your Internet speed using fast.
Get rid of the light behind you.
Put a light in front of you.
Use an external microphone.
Use virtual professional background
Okay, so there's the prep timer and the record timer.
During the prep timer, you plan your answers.
That's the blue clock during the record time you
give your answers and that's the red clock.
FAQ
Why don't you start by introducing yourself?
Give your brief introduction
Tell me your hardest achievement in your career?
Please prepare to talk about a work you are proud of
What is that you can give us and others can't
Pretty tricky question and it tests your personality . have something to talk around your plus points.
Suggested Courses

-66%
Last update was on: May 26, 2023 10:16 am
Produce video Interviews and on-camera testimonials. Present Yourself on Camera & Interviews with ease and style.
You may Like