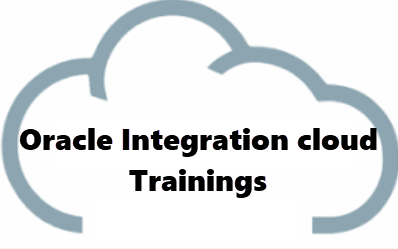 Nowadays lots of IT professionals are looking for Oracle Integration Cloud Trainings as Oracle OIC is fast becoming a key platform tool to manage enterprise integrations.
As you may be knowing OIC comes with a bundle of OIC, PCS, and VBCS, and all of these are generally required in building complex SaaS extensions with custom processes.
So when you look for training you should definitely plan to cover all three, either individually or as a bundle.
Do a google search of 'Oracle integration cloud training' and you will find training institutes bidding for top results.
I would suggest you examine the course contents and then make a decision as OIC is getting robust will every new release and new features getting added.
Who should Learn Oracle Integration Cloud OIC?
Whether you take training or acquire it by yourself, the knowledge of Oracle integration cloud is essential to build SaaS to SaaS & SaaS to On-Premise integrations and Extensions.
All EBS Apps technical resources will encounter this tool at one point and with businesses moving to the cloud, Oracle OIC PaaS platform is the go-to tool for anyone coming from non-appstech background like SOA /BPEL, FMW, etc.
Oracle Integration Cloud OIC Certification
If you have plans to do certification there check out Oracle OIC certification details.
Oracle Integration Cloud OIC Training Contents
So when you choose a training check out how much is covered from the below list. Though this may not be exhaustive, but these are vital topics that can put you in a space where you can confidently deliver projects to your customers.
Topics
Provisioning Oracle Integration Cloud OIC
Different Adapters
OnPremise Agents
Create and configure connections (Adapter, Trigger, Invoke)
SaaS To SaaS integrations
Saas to On-Premise Integrations
Bi-Directional Integrations
Business Events
Scheduled Integrations
Handling FBDI processes and Calling ESS Jobs from OIC
Security of OIC Processes
Authentication mechanism implemementation with SAML/ oAuth etc.
Integrating with non-oracle products
Knowledge of Web Services
Handling XML with XPath, XSL, XSDs
Explain WSDL, XML/SOAP, WS, and REST/JSON functionality
Map data using Lookups and the Data Mapper
Handling JSON, objects, Arrays,
Query and template parameters
Monitoring and Debugging Integrations
Develop B2B Flows in Oracle Integration (Inbound & Outbound EDI documents; Using the B2B Action)
Explore File Server use cases
Designing Enterprise Integration Architecture.
Integration with VBCS and PCS Apps for building end to end extensions.
Hope the above list gives an idea and if you cover this list you should be in good shape to crack OIC certifications and provide robust solutions to your Clients.
We have been getting requests for training but since we are not in that space I can suggest some of them which provide a good understanding.
Expert Bundle Training from K21 Academy
These guys cover good ground and different real-time scenarios in their Oracle integration Cloud training and also provide one year of support on your projects after training! Given the team's IT Industry background You won't need to look for any support outside! Highly Recommended!
Check Details
Covers: Provisioning OIC | Connectors | Agents | FTP Adapters | File Adapter Database Adapter | SaaS Adapter (Salesforce) | Troubleshooting | Customer Case Study | Security | Monitoring Integration
With 11 Lessons on PCS and 12 Lessons on VBCS.
Oracle Cloud ERP(SaaS) Technical- OIC/VBCS, Dell Boomi Bonus
Worth it!
Check Details
This training covers Fusion Technical and OIC bundle (OIC /PCS/VBCS) and covers Dell Boomi as well, which is good to work on hybrid integrations. Also provides some use cases with Python and gives an understanding of Business process flow in the ERP and Financials.
A Good Training Overall!
Check Details
The course will help you to prepare for the 1Z0 1042: oracle cloud platform application integration specialist exam.
Check Details
In this course, you will learn Oracle Integration Cloud with a number of real-time examples step by step. It's designed for all levels of the audience such as beginners, professionals.
Hope this helps you to make an informed decision and advance your career.
Good luck and thanks for reading.
FAQs:
You may like