Home
»
35+ Top Oracle Fusion HCM Cloud Interview Questions [Technical]
35+ Top Oracle Fusion HCM Cloud Interview Questions [Technical]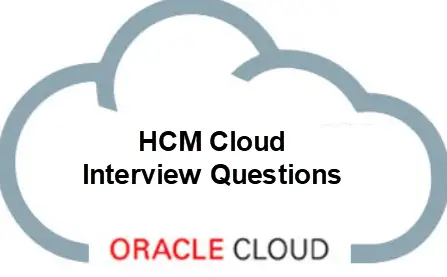 The Oracle HCM Cloud is a great product from Oracle and lot of customers are using it to manage their Human Resources and workforce.
It's great to have the required skills both functional and Technical and be in demand in the current IT market.
Here are some of the Oracle HCM Cloud Technical Interview Questions which are generally asked, hope it will help you prepare and progress in the HCM Cloud Technical career!
FAQs | HCM Cloud Interview Questions
What is Oracle Fusion HCM Cloud ? SaaS PaaS or IaaS?
Can you explain the technical architecture of HCM Cloud.

Image source oracle.com
https://docs.oracle.com/cd/E28271_01/fusionapps.1111/e15525/intro.htm

What are HCM Extracts
HCM Extracts are used to extract hcm objects data in raw format.
What is HCM Data Loader
A prebuilt tool to do data migration into HCM Cloud.
What are the Advantages of HCM Extract over BIP Report extracts?
BIP Report Extracts -With BI Extract a custom SQL can be written to pull data from different objects. you need to have an understanding of data model joins and able to write SQL. You can also format the output to your desired look.

HCM Extract – Can be used for complex reporting where you can fetch data from different sources or modules, with hierarchy and the parent-child relationship. Technical understanding and writing joins are not required.


What is the File based loader?
Using File in a certain predefined format to load hcm entity objects in hcm cloud.
Name some commonly used tables in HCM cloud on which you have created reports?
HR_ALL_ORGANIZATION_UNITS_F, HR_ALL_POSITIONS_F, PER_LOCATIONS, PER_ALL_PEOPLE_F, PER_PERSON_NAMES_F, PER_ALL_ASSIGNMENTS_M, PER_PERIODS_OF_SERVICE
What are HCM Adapters?
HCM Adapters are used in integration to hcm cloud to access HCM business objects and Feeds.
What are Atom Feeds?
Atom feeds are like Rss feeds and can be subscribed to read HCM events. Read more on Atom feeds here
What is Fast Formula in HCM Cloud
Fast formula is custom calculation used to add computed value in documents.
Explain the structure of an Enterprise Structure.
Please read the oracle documentation on enterprise Structure
https://docs.oracle.com/en/cloud/saas/applications-common/20b/facia/enterprise-structures.html
Explain the flow of Hire to Retire.
Please get an understanding of basic HR Processes on hiring and terminating.
What is the difference between Worker and Employee?
Employee is hired as a worker.
What are the mandatory metadata object to be included when hiring a new employee
We have to define Worker, Person Names, work relationships, work terms and Assignments.
What are the source keys we have to load data?
When loading data we need to have Source System ID, User Keys, GUID, Surrogate ID defined
E.g

METADATA|Job|JobCode|EffectiveStartDate|EffectiveEndDate|Name|SetCode|SourceSystemOwner|SourceSystemId
MERGE|Job|SE|2020/02/05|4712/2021/12/31|HCM Cloud Consultant|COMMON|EBS-OSCAR|78787
What is Fusion GUID?
Fusion GUID is HCM Cloud is a hexadecimal value. GUID is automatically generated at the time of the creation of the Entity object.
In which tables the errors of HCM data load is present?
         The tables which store the erros are
hrc_dl_message_lines
          hrc_dl_physical_lines
          hrc_dl_data_sets
          hrc_dl_file_rows
          hrc_dl_file_linesF

You can also check the errors by clicking the message icon in the import and export screen.
What is the difference between FBL and HDL
HDL Supports all flex fields DFF and EFF and People group Flex field.
We need to have components data as separate data files in FBL whereas you can do with single file in HDL.
FBL supports only GUID whereas HDL supports 4 keys.
FBL supports around 21 HCM objects and HDL supports around 90 business objects. 
How do you schedule the HCM Extract in fusion application?
You can schedule any HCM extract using a fast formula with type 'Flow Schedule' .
How to create dependent parameter for BI Publisher report in HCM Fusion?
While defining parameter you need to write a validation SQL to validate from parent parameter. Refer the parent parameter with a : (colon).
How you will validate data files for formatting issues?
Data File Validator tool can be used to validate the format of data files including flexfield configuration.
What are the different output format in HCM Extracts?
XML, CSV, Excel, HTML, RTF, PDF
What are the types of extract provided?
Payroll Interface, Full Profile , Payments, Benefit Carrier, Archive Retrieval, HR Archive, Payroll Archive.   
What are the different Delivery Types in HCM Extracts?
Document of Record, Email, FTP, FAX, File System, HCM Connect, HTTP, Printer.
What is HCM Connect.
Mobile version of HCM on IOS and Apps Store.
What is bursting in BIP Reports?
To send BIP output to a different destination.

Have you done any integration with HCM cloud and a 3rd party application.
If yes please explain the integration.
What is the difference between ATOM feed in HCM and Business event in other Fusion Modules.
ATOM Feeds are not really event which can trigger a process rather it has to be subscribed with a polling mechanism.
What are different types of Roles in fusion.
Explain job role , duty role and the differences
What is position hierarchy?
Hierarchy of positions in an organization.
I need a process in OIC which returns a payload. Please explain the Design.
Explain the Request and response method and the rest adapter capabilities.
Did you use BIP web service for integrations with HCM cloud SaaS?
Explain How BIP data is used . Report Bytes encoding and decoding requirement.
Hope these oracle fusion hcm interview questions help in your interview preparation.
Suggested Reading:
Oracle Integration Cloud Interview Questions
References: