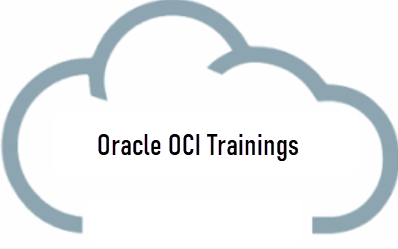 Oracle Cloud is one of the most complete cloud available for customers today. Oracle has cloud products available for each model IaaS SaaS and PaaS.
Oracle OCI is fast becoming one of the best infrastructures to migrate enterprise customer workloads. With the move to Cloud, many enterprises are understanding its value and need skilled Workforce to migrate their on-premise software and network infrastructure to the cloud model.
It's a great opportunity for someone looking to make a career in Cloud Computing to start with Oracle Cloud.
Oracle Cloud Infrastructure OCI Topics
When you go for an OCI training Look out for the below topics if they are covered and in what depth.
Introduction to Cloud Computing
Oracle Cloud Infrastructure Architecture
Oracle Cloud Account Sign Up Process & OCI Console Overview
Identity and Access Management (IAM)
Virtual Cloud Network (VCN)
Introduction to Integrations in OIC
OCI Load Balancer
OCI Compute Service
Oracle Container Engine for Kubernetes
OCI Registry Service
Object Storage
Block Volume
File Storage Service
Databases
Autonomous Databases
Oracle Functions
High Availability and Disaster Recovery
Resource Manager
Cost Management with Budgets and Quotas
OCI API, SDK, & CLI
OCI Monitoring and Notification Service
Tagging in OCI
DNS
Traffic Management Policies
OCI Security
OCI Pricing and Billing
Certification help , Live Projects and Job Assistance
Here I am listing some of the best Oracle Cloud Infrastructure Training available online which can help you to get started!
Oracle Cloud Infrastructure Training From K21 Academy
Check Details
[1Z0-1072] Oracle Cloud Infrastructure Architect Associate
This Training is full of in-depth, practical resources on Oracle Cloud IaaS Offerings, Networking, VCN & CIDR, OCI Compute: Bare Metal & Virtual Machine, and more.

It covers essential skills, strategies, and techniques to make you better Oracle Cloud Infrastructure Architect Associate and gives you an advantage over others, including:

Cloud Overview & Concepts
Subnet & Routing
Tenancy and Compartment
Load Balancer Service
Backup Restore Clone Block Volume
Create & Manage DNS Record
CV Preparation, Interview Questions, and On-Job Support

12 modules | 110+ Videos | 16 Hands-On Activity Guides

The team is from the industry background and understand what is really Required [ Recommended ]
Oracle Cloud Infrastructure Trainings From Udemy
[content-egg module=Udemy template=item currency=USD]
OCI Exam Guide
[content-egg module=AE__amazonin template=item]
Suggested Posts:
Know more about Oracle OCI
How to register for Oracle Cloud Free Trial