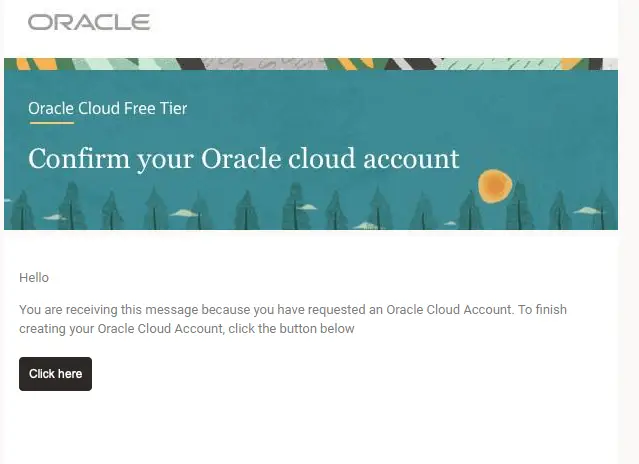 In this post, we will see how can you register an account for access to oracle OCI gen 2 and the oracle cloud free tier services.
With this, you can create your own personal account on oracle cloud and try out a lot of cloud services. Note that this is for Infrastructure access and not SaaS. If you are new and want to know the difference between SaaS PaaS & IaaS refer to this post
so let's start.
How to Register for Oracle Free Tier
20 Minutes
Sign Up for Always Free Oracle Cloud

navigate to URL cloud.oracle.com/free, to create a free tier account and click 'Sign Up' under Not an Oracle Cloud customer yet?

Enter your preferred account details

Please enter some basic information (like name, address, email) to sign up. You will get a confirmation email to verify your email address.

Confirm the details

You will need to confirm your oracle cloud account by clicking the 'click here' button

Create Your Preferred Login Passwords

Enter Passwords as per Oracle Cloud information protection Password Policy. i.e min 8 characters 1 lower case 1 upper case 1 numeric and 1 special character. You can leave the optional fields.

Enter the Cloud Account Name and select the Home Region nearest to your geographical location.
Though selecting the home region to nearest geography is not mandatory, but it's recommended for better performance.

Key in your Address information

Enter the Mobile number and verify the number with OTP (one-time password) if prompted. Hit 'Continue' to proceed.

Add Payment Verification Method

Click on the button Add payment verification method

Select the verification method

Currently, Only Credit card is the verification method provided. Click on 'Credit Card' button. Don't worry there won't be any charges. There will be a 1$ transaction that will be reversed.

Enter Your Card Details

Enter your card details and click finish.

PS: Rest Assured you will never be charged for the Always Free tier Account. Only when you manually upgrade your account to use more oracle cloud resources your billing happens.

Check for Confirmation

After verification select the Agreement Checkbox and click 'Start the free trial' button.

Verify your Card Transaction is Reversed

You will get messages from bank on your transactions credit and debit. Verify your transaction is reversed on your SMS message.

Receive your login link in your Email

After few minutes you will receive an email from oracle with the login link. [Get started Now with Oracle Cloud]

Check Access Details

Login with SSO

You are ready ! Test some Products

You account is created and you can get started .

May be Start with a Virtual Machine

You can create VMs as per your requirement and test the services. Now you have full access to a Oracle Cloud OCI gen 2 instance.
With the above steps, you can have a personal account on Oracle Cloud Infrastructure and enjoy a host of services.
Note that the trial account is free for 30 days and after that, you will only have access to the free tier.
All Oracle Cloud Infrastructure accounts (whether free or paid) have a set of resources that are free of charge for the life of the account. These Oracle Free Tier resources display the label Always Free label in the Console.

Oracle cloud has some of the great features w.r.t Performance, Security, Scalability, and Reliability and is one of the most complete clouds available for customers with oracle's presence in IaaS PaaS and SaaS verticals. Also, oracle cloud has very competitive pricing.
Important links for Reference:
Oracle Cloud Free Tier Sign Up
What you have in Always Free Resources
FAQ
Is Oracle Free Tier Cloud Free?
Yes, the Free tier is not charged, unless you change the configurations.
Can I have multiple accounts?
Each tenancy is unique and you will need to register with a different email id, credit card, and Phone number. Also, the address should not be the same but after some period it can be used.